2023-08-31
Challenge 2025: Canada's Open Banking Lead Tells Credit Unions They Won't Face Unnecessary Barriers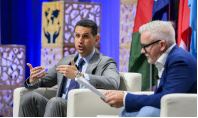 Abraham Tachjian (left) speaking to Jeff Guthrie at the 2023 World Credit Union Conference
In response to a recent submission from the Canadian Credit Union Association (CCUA) and Canada's Large Credit Union Coalition (LCUC) on credit union policy positions relating to the development of the country's Open Banking Framework, Canada's Open Banking Lead, Abraham Tachjian, has provided CCUA and the LCUC with a letter reiterating its commitment to ensuring that credit unions don't face unnecessary barriers to participation in open banking.
Mr. Tachjian is currently developing his recommendations on the framework, which he will put forward to the government by the end of his mandate in September 2023. While it has yet to be confirmed if the recommendations will be made public, Canada's Department of Finance continues to work towards finalizing the framework by the end of this year.
In practical terms, Open Banking gives consumers the power to securely share their selected banking data with accredited third parties, such as online service providers or mobile apps, to notify them when bills are due, set up automated payments—even move money between accounts at different financial institutions.
The letter comes just one month after Tachjian joined CCUA President/CEO and WOCCU Board Director Jeff Guthrie for a 2023 World Credit Union Conference breakout session in Vancouver to provide a comprehensive overview on Open Banking from both a global and Canadian perspective.
Brazil, Australia and the UK are among the small number of countries that have developed a standardized infrastructure and regulatory framework for Open Banking. Tachjian admits Canada is behind schedule.
"I get it. It's taken us a long time. Other jurisdictions have beaten us to the punch. But I would venture to say that not a single jurisdiction has gotten this right from the get-go," said Tachjian. "But that gives us an opportunity to be a fast follower, this cliché term. Well, what does that mean? It allows us to look at other jurisdictions to see what's worked, to import that here, but importantly also identify weaknesses in other systems and try to avoid that."
Tachjian praised the UK and Australia for their rapid development of Open Banking, but said it was implemented due to poor market conduct by some financial institutions in those countries, leading to a punitive approach—something Canada wants to avoid. He noted that Brazil's Central Bank also moved to implement Open Banking with impressive speed.
"But I'm also conscious of the toll that's taken from a financial perspective and from a resource perspective within institutions to meet that aggressive timeline. So, that's something we're quite conscious of," said Tachjian.
CCUA will continue to engage the federal government, provincial governments, and regulators to ensure credit unions have equal access to the federal framework.
The Canadian Credit Union Association is World Council's direct member organization in Canada, and co-hosted the 2023 World Credit Union Conference in Vancouver.
World Council of Credit Unions
P.O. Box 2982, Madison, WI 53701-2982 USA
Phone: +1-608-395-2000 | Fax: +1-608-395-2001 | mail@woccu.org | www.woccu.org